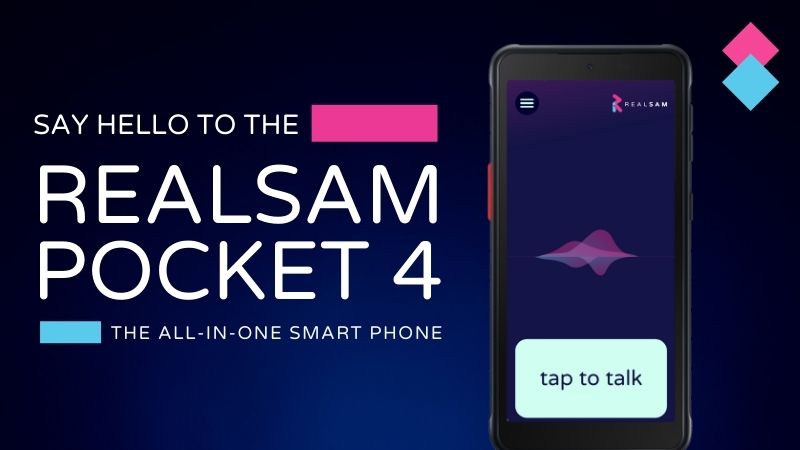 | | | |
| --- | --- | --- |
| Simple | Fully Voice Operated | Entertaining |
| Click a button and ask for what you want using natural speech. | Just say 'Read the New York Times' 'Find books by Agatha Christie.' 'Call Dr. Smith.' | Stream over 100,000 talking books, 650 newspapers and magazines, or 1000's of podcasts at no extra cost. |
| | | |
Simple
Click a button and ask for what you want using natural speech.
Fully Voice Operated
Just say 'Read the New York Times' 'Find books by Agatha Christie.' 'Call Dr. Smith.'
Entertaining
Stream over 100,000 talking books, 650 newspapers and magazines, or 1000's of podcasts at no extra cost.
Connect with convenience… anywhere.
No need to learn a complicated menu or struggle with reading small buttons; just touch the screen and talk.
Powered by the Samsung XCover5 handset, Pocket is the easy to use smart phone especially designed for people with sight loss. Packed full of features to make life easier, RealSAM Pocket v4 is ready to go wherever life takes you.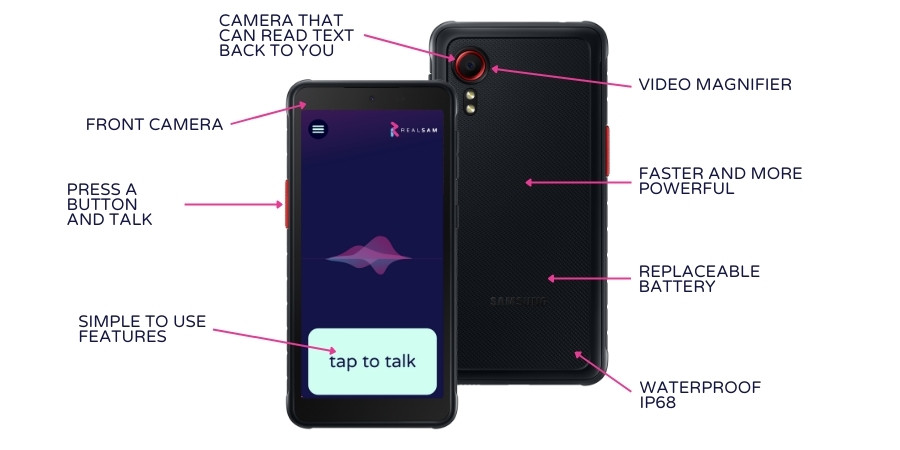 Our customer reviews
Watch two of our happy customers trying our Be My Eyes feature that gives 24×7 sighted assistance if you need it.
Click the play button below to watch/listen.
"The single button and voice controls are impressive and simple to use"
Graeme I

"I have spoiled some of my husband's stories, because now I get the same articles that he reads in the newspapers"


Janene S

"Thank you for all of your help. I am certain this is going to change my life!"
Judy H
Our latest version for only £26.99 a month

Bundled with Unlimited Calls & Texts in the UK plus 3Gb data per month from O2

New Samsung XCover 5 handset with Video Magnifier, Object & Character Recognition!
I have read and agree to the terms of service.
I am blind, have low vision or a print disability, or I am acting on behalf of someone who is, and claim the associated VAT relief.
I agree to RNIB receiving my contact details so I can access their Library and Newsagent services.


TERMS & CONDITIONS
You are ordering a RealSAM Pocket mobile device and service with a recurring monthly payment for a 24 month minimum contract. After this period you can end the Agreement by giving us 30 days' notice. The service includes access to the RNIB Library and RNIB Newsagent, and gives you 3Gb of mobile data and unlimited UK phone calls and texts each month.
Your device will be delivered within 5-10 working days. You can return your device within 60 days of receiving it if you change your mind. If you cancel within 60 days, you will be charged £26.99 for each month's usage charges. You will need to contact us to return your device along with all accessories and packaging, and you will be responsible for any postage charges for returning the product to us.
The full terms and conditions are accessible on the RealSAM Pocket device, and are also available on our website: https://realsam.co.uk/support