RealThing Ai, the company that has developed RealSAM In Your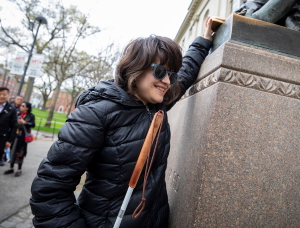 Pocket is looking to refresh its understanding on the frustrations and ideas for solutions from members of the Sight Loss community.    Membership of the roughly 2 month "Human Centered Design" process would consist of a balanced spread in age, gender, location, amount of vision.  We are not looking to utilize insights from existing In Your Pocket customers in this study.
Participants will be rewarded with:
Contributing to the idea pool for the next generation of assistive technology from RealThing Ai.
A code to purchase In Your Pocket at £32 off retail (for yourself and up to two friends).
A free RealSAM Speaker Subscription for 12 months.
A free set of wired, bone conduction headset or bluetooth sunglasses worth around £25
To nominate for involvement in this project before it commences in April 2021, please complete your details below:
Oops! We could not locate your form.