If you or someone you care for lives with age-related sight loss or other challenges, conventional mobile phones might be difficult to use. Even though most smartphones offer accessibility features, the overall complexity of these devices can produce frustrating experiences.
Getting a new handset should be exciting, but these devices can be daunting when you must go through so many steps to start using them. Most smartphones have only 3 tactile buttons, and once you've figured out how to power them on, you need to know to triple tap the power button or long press the volume keys or take some other action to activate accessibility. 
Once you've activated the screen reader, you will go through page after page of set up where you will have to make choices, agree to terms, and allow permissions. You may not even completely understand some of the terms or choices, but you must make selections before you can begin using your device. 
After the long set up process, you finally make it to the homescreen and now you can call someone to let them know you have a new mobile. But wait, how do you get to the call app?
It can take time to learn how to use gestures to navigate through numerous apps. For some, it might be physically challenging or difficult to remember gestures like swiping left and right to go from app to app, doing a two-finger swipe up to speak the entire screen and so many others.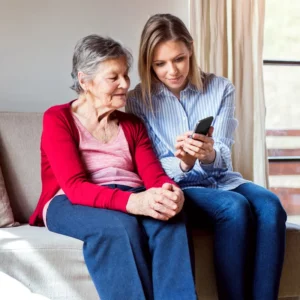 If you're looking for an easy way to talk to your loved ones and stay connected to friends and support, the RealSAM Pocket is an amazing smartphone that eliminates these complications. It's especially designed for blind and visually impaired people looking for a smartphone that's easy to use.
With Pocket, there's no need to go through a bunch of steps to activate accessibility. Right out of the box, it's fully voice-operated and will give you prompts and feedback every step of the way. It has all the capabilities of a smartphone, allowing you to make calls, send messages, get support, use assistive tools, and even access news and entertainment—without having to learn how to use gestures to navigate. 
With voice recognition and a simple interface, you can take control of the RealSAM Pocket by tapping one button and using your own words to say what you would like it to do. There's no need to do a four-finger tap to select the first thing on the screen or keep swiping left and right to find the call app—with the one and only 'tap to talk' button you can tell Pocket to make a call.
You won't have to navigate through a bunch of other apps to add contacts or send messages. You can use the same 'tap to talk' to tell Pocket to do all these things and more, for you—it's a simple solution that keeps you connected to your friends and family.
By Guenivir Kendrick
Find out more about RealSAM Pocket 
RealSAM Pocket prices start at £26.99 with unlimited UK calls and texts and 3GB data from O2. Check out all our devices from our shop or call us at 0333 772 2708.