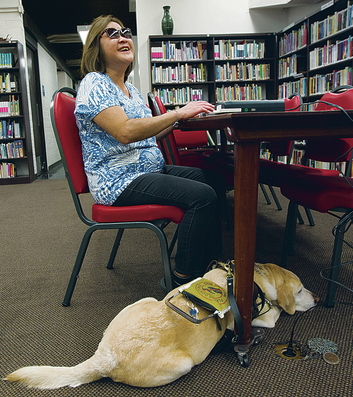 For people with sight loss, purchasing a mobile phone is more than just getting a device that can help them to stay in contact with friends and family. Whilst it is essential that phones for the partially sighted can easily make phone calls and text other people, the vast majority of users want to be able to do more than just these basics. 
Thankfully, the In Your Pocket mobile phone isn't just designed to help you stay connected, but it is also able to help you remain independent and keep you entertained too. One of the biggest benefits of In Your Pocket is that people with sight loss can access the RNIB Library of books, newspaper and magazines at the click of a button. If you've not heard of the RNIB Library and you'd like to find out more, keep reading today.
What is the RNIB Library?
The RNIB, Royal National Institute of Blind People, is one of the UK's leading sight loss charities and the largest community of blind and partially sighted people. As the name suggests, the RNIB Library is a book library that was created by the charity to allow anyone with sight loss to still enjoy books. 
The RNIB Library is the largest in the UK, and it contains digital, audio, braille and giant print books for both adults and children. It is important to note that the use of this library is completely free, and with over 60,000 items in the collection, there is something for everyone. 
What sort of books will you find in the RNIB Library?
Within the RNIB Library, you will find everything from fiction and non-fiction books to biographies and autobiographies for both adults and children. There really is such a huge range of different books to choose from, and it is likely that no matter what you enjoy reading, there will be lots of RNIB talking books written by some of the most well-known authors to choose from. 
What else does the RNIB Library offer?
As well as offering you books, the RNIB Library can also provide you with more than 200 popular newspapers and magazines too. So, whether you want to stay up-to-date with the latest news or you would like something slightly more light-hearted to read, you will have lots of different options to choose from. 
If you're really passionate about books, you may want to tune into The Audiobook Show too. This is presented by Red Szell and is full of book news, reviews and exclusive author interviews. With new episodes every Friday at 1 pm, you can look forward to it every week. 
How do you access the RNIB Library with In Your Pocket?
In Your Pocket is also an audiobook reader for the visually impaired allowing you to access everything that the RNIB Library has to offer. To find the RNIB talking book that you're interested in listening to, all you need to do is ask your In Your Pocket to find it. It really couldn't be easier to access all of the RNIB talking books that you're interested in. You can also ask In Your Pocket to search within books and newspapers e.g. Asking In Your Pocket to skip to the next chapter.
Using the RNIB Library 
Hopefully, you will now know a little more about the RNIB Library in general and also how you can easily access everything that it has to offer on the In Your Pocket device. It goes without saying that this is such a brilliant addition to a mobile phone for the partially sighted and no matter what your interests are, you will easily be able to find something within the RNIB Library to keep you entertained.
If you'd like to find out more about the In Your Pocket device and everything else that it can offer, please contact our team. You will be able to get to know this phone for the partially sighted, and we will happily answer any questions for you.