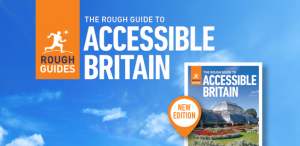 The eighth edition of the Rough Guide to Accessible Britain has just been released and is available to stream on In Your Pocket. It couldn't be easier to find; simply say 'Find the Rough Guide to Accessible Britain' and the book will be streamed to you free of charge. You can even search for days out by region within the Guide by asking Pocket to skip to a specific chapter such as 'London' or 'The Southwest'.
Featuring over 200 locations handpicked for their inclusivity, we think The Rough Guide is a must have summer read. Each of the recommendations has a handy key to help you identify the best locations for the blind or visually impaired, including those that are Guide Dog friendly.
In Your Pocket is also packed full of features to help you once you've found your ideal day out. These include our navigation settings that enable you to bookmark points of interest to help you find your way back to them, or a direct link to Be My Eyes if you need a little extra help in an unfamiliar place.
The Rough Guide to Accessible Britain can also be downloaded here