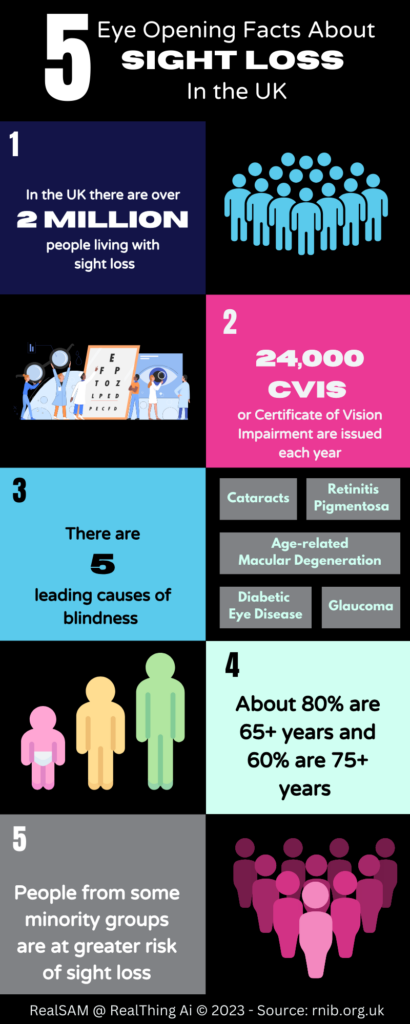 If you or someone you know has been experiencing vision loss for the first time, you may feel alone. Without knowing much about sight loss, the future might feel daunting. Without being part of a community, it might feel like you're facing tremendous challenges on your own.
The truth is, you're not alone. There are many others living with sight loss all over the country, and with community and support, the future is brighter than you may be anticipating.
Facts about Sight Loss in the UK 
At present it may be overwhelming, but there are many others who know how you're feeling and go through similar challenges. These are 5 facts about sight loss in the UK: 
 In the UK there are 2 million people living with sight loss.

24,000 CVIs or Certificate of Visual Impairment are issued each year. 

The 5 leading causes of blindness are: age-related macular degeneration, glaucoma, cataracts, retinitis pigmentosa, and diabetic related eye disease. 

About 80% of blind and visually impaired people are 65+ years and 60% are 75+ years old. 

People from some minority groups are at greater risk of sight loss.
You can learn more about these statics in depth from RNIB's 'Key Information and Statistics on Sight Loss in the UK'; you'll also be able to download their documents on this information. 
Become Part of a Community
People of all ages and backgrounds experience visual impairment from various eye conditions. And because blindness is a spectrum, everyone sees differently and experiences sight loss in their own way. 
One of the most helpful things to do when vision loss is an unfamiliar territory, is to connect with your local sight loss charity. They can provide many different types of resources; they can signpost you to other organisations that provide the help you need and connect you to counseling or other people who are going through or have experienced similar circumstances.
Support and friendship will make a difference. 
You Can Make a Difference 
If you're not directly living with sight loss—maybe you are a family member or a friend of someone experiencing sight loss for the first time, you can make a difference.

If vision loss is a new experience in your loved one's life, remember that they haven't changed, just their vision. There's no need to feel particularly awkward or to treat them as if they were a different person. Just love them, care for them, and spend time with them the way you always have. You will soon find out that there are many ways to adapt to visual impairment and life doesn't have to be any less fulfilling or enjoyable together. 

If they are struggling to get the help they need, you may be the one to reach out to your local charity for support. But that's not a problem, because they are equipped to help you help your loved one. 

And if you have the opportunity, you might find it rewarding to volunteer to help other blind and visually impaired people in your area. Contact your local charity to enquire about events, opportunities, and fundraising needs. 
Resources by RealSAM
It's our mission to empower blind and visually impaired people with technology that helps them to stay independent and keep them connected. At whatever stage of vision loss, our products can be a solution for someone. We also partner with national and local organisations and share content for the community. Feel free to browse our content for resources and encouraging articles about sight loss. 
Sight Loss Charities in England 
Sight Loss Charities in Northern Ireland
Sight Loss Charities in Scotland
Staying In Touch with Mum and Dad
7 Things to Consider When Shopping for a Mobile Phone for Seniors 
By Guenivir Kendrick